A MIGHTY CYCLE
FOR A MIGHTY CAUSE
THE LANG WAY DOON WAS BORN IN JULY 2017 WHEN 22 RIDERS TOOK ON THE CHALLENGE TO CYCLE THE LENGTH OF SCOTLAND, FROM TONGUE TO COLDSTREAM IN LESS THAN 24 HOURS. ONLY 14 RIDERS MANAGED THE 325 MILES AND 17,625FT OF CLIMBING THAT DAY BUT IN DOING SO, THEY PROVED THE CHALLENGE WAS POSSIBLE.
THE ROUTE AND THE CHALLENGE WAS SO EXTREME AND EXCITING THAT IT SEEMED A SHAME TO PAT OURSELVES ON THE BACK AND CYCLE OFF. SO, THE LANG WAY DOON CLUB WAS CONCEIVED – A CLUB TO RECOGNISE THOSE WHO HAVE SUCCESSFULLY COMPLETED THE CHALLENGE AND TO SERVE AS AN INCENTIVE FOR THOSE THAT HAVEN'T.
WE ALSO WANT TO DO OUR BIT FOR THOSE LESS FORTUNATE THAN OURSELVES SO WE HAVE A CHARITY PARTNER, CHILDRENS HOSPICES ACROSS SCOTLAND (CHAS) WHO WILL CONTINUE TO BENEFIT FROM THIS CLUB.
The route itself is 'simple'. Cyclists must ride between Tongue on the North coast of Scotland and Coldstream on the southern border with England. This can be ridden in either direction and the actual route is flexible however riders must go via Braemar (the lang way doon). A suggested route (and the route that was first ridden) is shown below.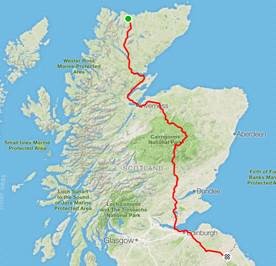 The Rules
The Club will recognise those cyclists who have completed the route and verified their time either by:
Providing electronic evidence such as Garmin or Strava activity file information; or

Providing stamped records from the three designated checkpoints.
Fund Raising
ALL of your registration fee will go to our charity partner chas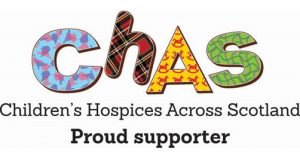 Check points
The Club is supported by the following kind hostel/hotels who will stamp your Ride Card with date and time for validation purposes:
1.Tongue – Kyle Of Tongue Hostel & Holiday Park (Details at: www.tonguehostelandholidaypark.co.uk)
2.Braemar – Invercauld Arms Hotel (Details at: https://www.coastandcountryhotels.com/hotels-locations/the-invercauld-arms)
3.Coldstream – Collingwood Arms (Details at: http://collingwoodarms.com/)
(We would really like it if you in return, could support them with your custom. They will think you are mad given what you are attempting to do but given they are at least involved in the event, they will not think you are as mad as other places might!)
Note: Riders planning to submit electronic evidence for validation do not need the checkpoint stamp. We do however recommend you do get the stamps as back-up, should your electronic device fail.
Challenge Options
Cyclists can choose between the following three challenge options:
Gold Award – complete the route in less than 24 hours

Silver Award – complete the route in less than 36 hours

Bronze Award – complete the route in less than 48 hours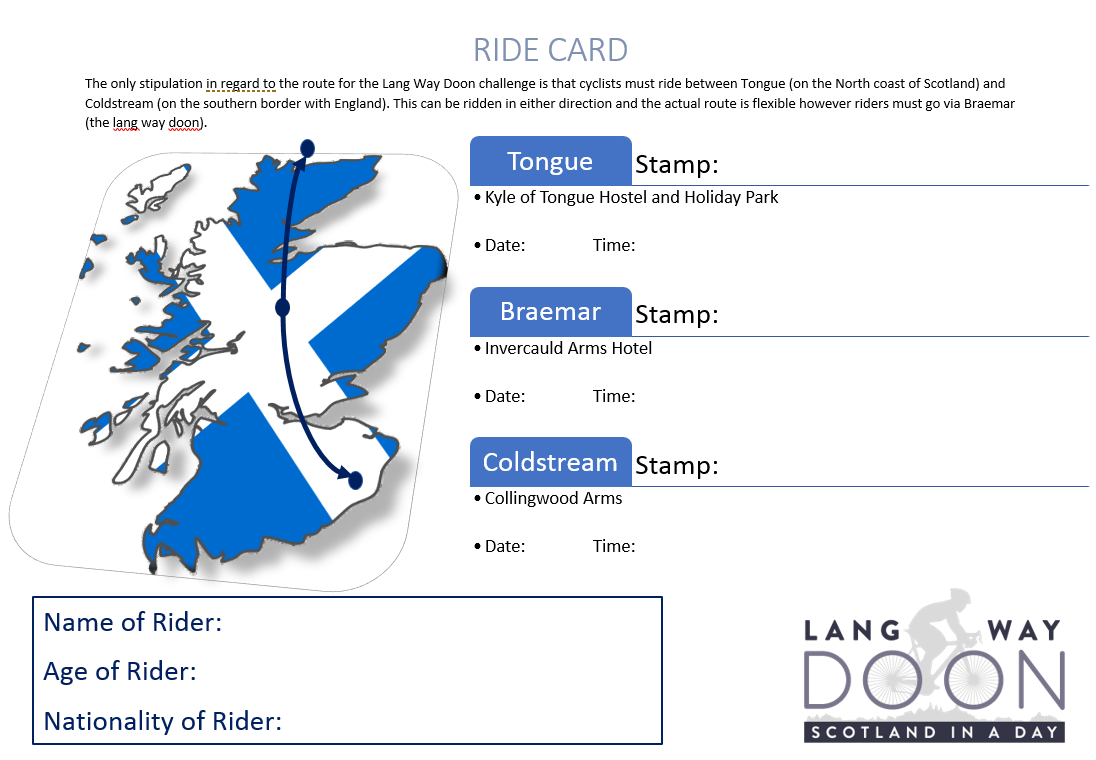 Validation
On completion of this challenge, riders should submit the original Ride Card (not a copy) to the organiser for validation. The absence of a single checkpoint or electronic evidence will result in refusal of approval.
Once the ride has been validated then the riders will have joined the Club and his or her details will be added to the Members List.
Reward
As well as approval to join the Club, successful riders will also receive:
1. A certificate of completion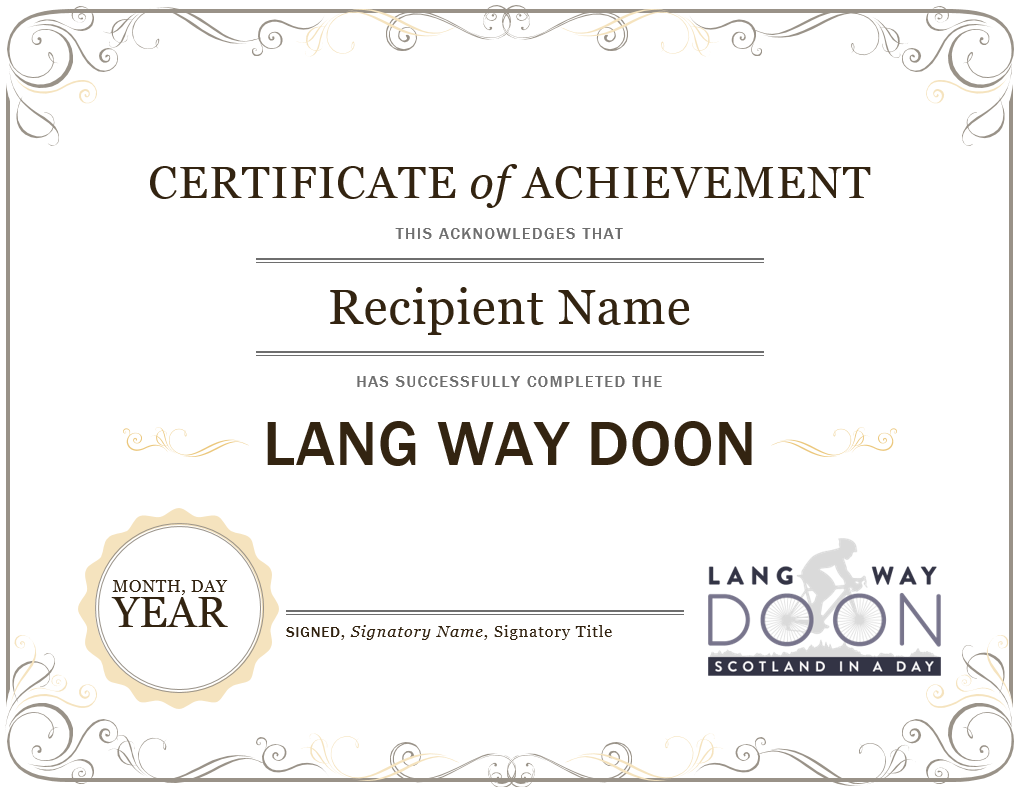 2. A gold, silver or bronze (depending on challenge option completed) Lang Way Doon Club medal
This is an extremely difficult challenge that should only be attempted by cyclists who have the required level of fitness and have taken medical advice from their Doctor in advance.
Riders must follow the Highway Code at all times during the challenge.
All riders should be personally responsible and the Club, its organisers, or anyone affiliated to the Club cannot be held liable in any way.
Disclaimer of Warranties and Liability
You expressly agree that the Lang Way Doon Challenge carries inherent and significant risks of property damage, bodily injury or death and that you voluntarily assume all known or unknown risks associated with the Lang Way Doon Challenge even if caused in whole or in part by the action, in action or negligence of the Club, its organisers, or anyone affiliated to the Club.
CLUB MEMBERS
WE ARE HONORED TO ACCEPT THE FOLLOWING MEMBERS TO THE LONG WAY DOON CLUB
| No | First Name | Surname | Age | Sex | Nationality | Date Completed |
| --- | --- | --- | --- | --- | --- | --- |
| 1 | Andrew | Doig | 34 | M | Scottish | 1st July 2017 |
| 2 | Andrew | Easton | 49 | M | British | 1st July 2017 |
| 3 | Alan | Lauder | 48 | M | Scottish | 1st July 2017 |
| 4 | Vic | Leitch | 50 | M | Scottish | 1st July 2017 |
| 5 | Ross | Mitchell | 40 | M | Scottish | 1st July 2017 |
| 6 | Robbie | Mitchell | 36 | M | Scottish | 1st July 2017 |
| 7 | Andy | Moore | 39 | M | British | 1st July 2017 |
| 8 | Scott | Murray | 45 | M | Scottish | 1st July 2017 |
| 9 | Rupert | Norris | 38 | M | British | 1st July 2017 |
| 10 | Ady | Tester | 50 | M | British | 1st July 2017 |
| 11 | Rob | Ure | 48 | M | Scottish | 1st July 2017 |
| 12 | Nipper | Varney | 49 | M | British | 1st July 2017 |
| 13 | Grahame | Veitch | 50 | M | Scottish | 1st July 2017 |
| 14 | Paul | Reddish | 36 | M | British | 22nd June 2018 |
| 15 | Lawrence | Webster | 56 | M | Scottish | 22nd June 2018 |
| 16 | Martin | Crawford | 38 | M | Scottish | 1st July 2018 |
| 17 | Andrew | Russell | 28 | M | British | 1st July 2018 |
| 18 | Tim | Cais | 27 | M | Scottish | 1st July 2018 |
| 19 | Chris | Jones | 36 | M | Welsh | 1st July 2018 |
| 20 | Chris | Edwards | 36 | M | British | 1st July 2018 |
| 21 | David | Shields | 33 | M | Irish | 28th July 2019 |
| 22 | Russell | Easton | 57 | M | Scottish | 28th July 2019 |
| 23 | Nathalie | Brohan | 44 | F | French | 28th July 2019 |
| 24 | Colin | Mason | 54 | M | Scottish | 28th July 2019 |
Design: Marketing Concepts 2016